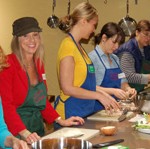 Cooking classes in Charlee's Kitchen are a great way to stay up–to–date on healthy living practices and natural medicine alternatives. All are welcome. With the exception of our Food as Medicine Everyday cooking series, classes last between 2–3 hours.

Share this resource with your patients, friends and or colleagues.
Upcoming Classes
Winter 2016 FAME Series
The Food as Medicine Everyday series is a series of weekly workshops that demonstrate simple techniques for selecting and cooking tasty, nutritious whole foods and teach how these foods can improve health and fitness.
Two Classes to Choose From:
Wednesdays, January 6 – March 23, 2016, 6:00 – 7:30 p.m.
Location: Charlee's Kitchen, 2220 SW First Avenue Portland
Registration »
Thursdays, January 7 – March 24, 2016, 6:00 – 7:30 p.m.
Location: Charlee's Kitchen, 2220 SW First Avenue Portland
Registration »