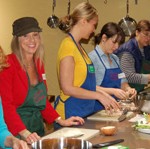 Cooking classes in Charlee's Kitchen are a great way to stay up–to–date on healthy living practices and natural medicine alternatives. All are welcome. With the exception of our Food as Medicine Everyday cooking series, classes last between 2–3 hours.

We are continually adding new classes, so be sure to check back frequently.
Share this resource with your patients, friends and or colleagues, please download the flyer to print!
Upcoming Classes
Fall 2015 FAME Series
The Food as Medicine Everyday Cooking Series is a multi-week course led by naturopathic physicians that focuses on nutrition education and simple, hands-on cooking techniques to prepare food that promotes health and fitness. This fall we are offering two FAME series opportunities.
Mondays, September 14 – December 7, 2015, 6:00 – 7:30 p.m.
Learn more and register »
Thursdays, September 17 – December 17, 2015, 6:00 – 7:30 p.m.
Learn more and register »