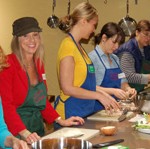 Cooking classes in Charlee's Kitchen are a great way to stay up–to–date on healthy living practices and natural medicine alternatives. All are welcome. With the exception of our Food as Medicine Everyday cooking series, classes last between 2–3 hours.

We are continually adding new classes, so be sure to check back frequently.
Upcoming Classes
Food as Medicine Everyday Cooking Spring Series
Renew your commitment to health in the new year, sign up for the  Food as Medicine Everyday series of twelve weekly workshops that demonstrate simple techniques for selecting and cooking tasty, nutritious whole foods and how these foods can improve health and fitness.
April 9–June 25, 2015
Thursday: 6:00-7:30 p.m.
Register for the Thursday FAME class.
April 11–June 27, 2015
Saturday: 10:00-11:30 a.m.
Register for the Saturday FAME class.