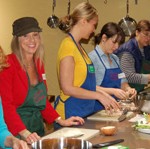 Cooking classes in Charlee's Kitchen are a great way to stay up–to–date on healthy living practices and natural medicine alternatives. All are welcome. With the exception of our Food as Medicine Everyday cooking series, classes last between 2–3 hours.

We are continually adding new classes, so be sure to check back frequently.
Upcoming Classes
Thanksgiving Side Dishes: What Everyone Needs to Know
Your Way to Delicious & Better Health
November 15, 2014, 3 – 5 p.m.
Want inspiration for a delicious, healthy dinner to serve your family and friends? We are excited to announce a cooking class with Maryam Milani-Baladi of 2BWell featuring recipes for Thanksgiving side dishes that use Middle Eastern and Mediterranean spices.  REGISTER