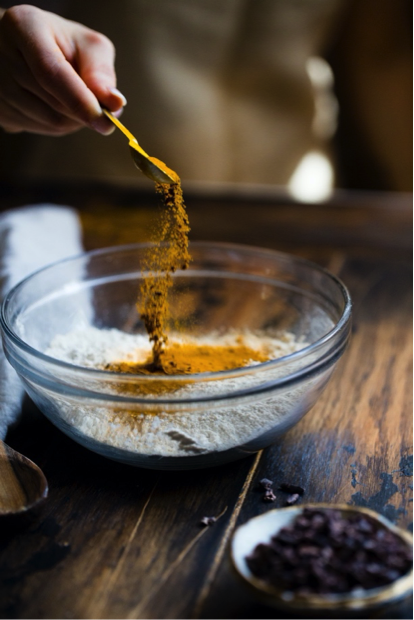 If the concept of food as medicine had a mascot, then turmeric would definitely be in the running! The benefits of this golden spice have been a popular topic in health news for the past decade. To learn more about turmeric, it's impact on health, and how you can start using it in your kitchen today, read on for a quick lesson.
Turmeric Background
Turmeric is a culinary spice that is a part of the zingiberaceae family, which is also known as the ginger family. Turmeric is a flowering plant that is native to Southeast Asia and its uses date back at least 6,000 years1. The part of the turmeric plant that it eaten is the rhizome. A rhizome is a horizontal stem that grows underground, and each rhizome is capable of growing its own roots and additional rhizomes, which is what gives fresh turmeric its knobby, hand-like appearance.
Health Benefits of Turmeric
Though turmeric has been used as a culinary spice and a folk remedy for thousands of years, it is with the advancement of scientific research that we have been able to identify the beneficial constituents that turmeric contains. One of the most well-known and studied constituents of turmeric is curcumin. According to research, curcumin acts as an antioxidant in the body and exerts anti-inflammatory action on many different body systems2. It is useful in the treatment of many common ailments, especially in those where inflammation is the driving cause of symptoms, such as arthritis2. It has also shown to be protective against tumor formation, blood sugar dysregulation and cardiovascular disease2. It is important to note that a lot of the studies we have on the health benefits of turmeric are done using high dose extracts of curcumin, and though it is generally well-tolerated, there are some contraindications to supplementation, so it's best to consult with your healthcare provider first if this is something you are interested in.
Utilizing the medical properties of turmeric as a food has been shown to be very safe, which is one of the many benefits of using food as medicine as opposed to relying on supplementation to obtain your nutrients. In addition to turmeric's anti-inflammatory and antioxidant actions, just two teaspoons of ground turmeric supplies3:
5% of the daily recommended intake of Vitamin B6
10% of the daily recommended intake of Iron
15% of the daily recommended intake of Manganese
*Based on a 2,000-calorie diet
Adding a small amount of this spice to your recipes can make a big impact on your health over time!
Tips for Using Turmeric in Your Kitchen
Purchasing:

Fresh turmeric is sold in the produce section of most grocery stores next to the fresh ginger

Ground turmeric is found in the spice section
Storing:

Unpeeled, fresh turmeric is best stored in the refrigerator
Cooking:

When you are ready to use fresh turmeric, you can use the back of a spoon to peel the outer skin off. It is incredibly easy and much safer than using a knife!

Turmeric skin is edible so if you don't mind the fibrous texture, no need to peel

Evidence suggests that the medicinal properties of turmeric are more available for our bodies to use when paired with black pepper2, so be sure to use a pinch of pepper in your recipes that contain turmeric.
Stain warning!

Turmeric is a great natural dye. With that being said, just know that it can leave your hands, counter tops and anything else it comes in contact with a shade of golden yellow if precaution isn't taken. To avoid this, simply wash what the turmeric has made contact with in warm soapy water as soon as you can after use.
Recipes to Try
Both fresh and ground turmeric can be used in a variety of recipes. Below are some delicious examples of the many ways you can use turmeric in your kitchen today:
Golden milk recipe: https://downshiftology.com/recipes/turmeric-milk-dairy-free/
Turmeric tonic: https://minimalistbaker.com/healing-3-ingredient-turmeric-tonic/
Turmeric chicken and rice: https://www.foodandwine.com/recipes/turmeric-chicken-and-rice
Paleo and AIP friendly turmeric chicken curry: https://unboundwellness.com/turmeric-chicken-curry-paleo/
---
About the Author:
April Jones is a student in the Naturopathic Medicine and Master of Science in Nutrition programs at National University of Natural Medicine. April has worked as an assistant for the Food as Medicine Everyday series throughout her time at NUNM. Her favorite part about the series is witnessing participants have "Aha!"moments during nutrition lessons, and helping others strengthen their connection to lifelong health by cooking with whole foods. Her nutrition philosophy is all about balance and she believes in utilizing food as medicine, every day!
References:
Gopinath H, Karthikeyan K. Turmeric: A condiment, cosmetic and cure. Indian J Dermatol Venereol Leprol. 2018 Jan-Feb;84(1):16-21. doi: 10.4103/ijdvl.IJDVL_1143_16. PMID: 29243674.
Hewlings SJ, Kalman DS. Curcumin: A Review of Its Effects on Human Health. Foods. 2017;6(10):92. Published 2017 Oct 22. doi:10.3390/foods6100092