Friday, February 10, 2017  | 6-8 p.m.
Charlee's Kitchen, NUNM Helfgott Research Center | Map & Directions
$75 EB (ends 1/29/17), $85 regular
Limit: 15 participants
This event is sold out.
Join renowned fermentation expert Sandor Katz as he demonstrates the true Art of Fermentation. This intimate setting will allow participants to learn directly from a master of the craft as they prepare their own fermented delicacies. Participants will leave with a glass jar containing their self-prepared vegetable ferments, as well as the knowledge of simple techniques for fermenting these healthy foods at home. Be part of the fermentation revival!
Bio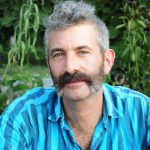 Sandor Ellix Katz is a fermentation revivalist. His books Wild Fermentation (2003) and The Art of Fermentation (2012), along with the hundreds of fermentation workshops he has taught around the world, have helped to catalyze a broad revival of the fermentation arts. A self-taught experimentalist who lives in rural Tennessee, the New York Times calls him "one of the unlikely rock stars of the American food scene." Sandor is the recipient of a James Beard award and many other honors. For more information, check out his website wildfermentation.com