Learn vital information & explore delicious SIBO-friendly food
Tuesday Evenings, April 16 – May 21, 2019 | 6:00 – 8:00 p.m.
Location: Charlee's Kitchen, 2220 SW First Avenue Portland, Map and directions
Join Kristy Regan, a holistic Nutritionist and author of The SIBO Diet Plan, to learn more about small intestinal bacterial overgrowth (SIBO) and cook SIBO-friendly, low FODMAP recipes.  Whether you're newly diagnosed with SIBO or you want to take a fresh look at your menu choices and your digestive health, we welcome you to this six week class!
During each two-hour session we'll cook three straightforward, healthy recipes together, dine as a community, and discuss important SIBO topics that can improve your symptoms and long term health.
As part of the class, you'll receive The SIBO Diet Plan book, which includes over 90 recipes, including everything we'll be making in class.
Class topics include: 
SIBO 101
Diets for SIBO
Mindfulness & Motility
Supplements and Practices to Improve Symptoms
Living Life Fully with SIBO
SIBO Healing Phase and FODMAP Reintroduction
Class recipes include: 
Detoxifying Vegetable Soup
Breakfast Egg Muffins
Electrolyte Drink
Simple Roast Chicken
Carrot Ginger Puree
Chimichurri Sauce
Pancetta Wrapped Pork Tenderloin
Baked Eggplant
Romesco Sauce
Garlic Parmesan Chicken Legs
Tender Swiss Chard
Strawberry Compote
Moroccan Carrot Soup
Curry Quinoa Stir Fry
Sour Gummies
Orange and Olive Salad
Sweet Potato Chili
Chocolate Pecan Nut Butter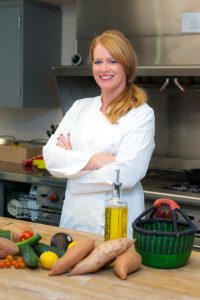 Kristy Regan, of Vital Food Therapeutics, is a holistic Nutritionist and author of The SIBO Diet Plan. She specializes in working with clients who have digestive disorders, including SIBO, IBS, IBD, and leaky gut. Her practice combines nutritional therapy, lifestyle education, and counseling to assist clients in their healing journeys.
Kristy was diagnosed with SIBO when little information was available. This led to a multiyear journey in conducting SIBO research, developing her own inner authority, discovering new ways to cook, and creating delicious new recipes.
She appreciates how important it is to address both physical and emotional health. She is also aware of the role gratitude and presence play in supporting us in feeling whole while we are in the midst of healing.
She is passionate about sharing her insights and expertise in cooking, nutrition, health, and mind-body therapies via podcasts, classes, and speaking engagements. Kristy is available for individual nutrition and wellness appointments online worldwide. Visit her website, VitalFoodTherapeutics.com for free recipes and digestive health information.
Registration
Early bird pricing, through March 31
$299 per person
Regular price, starts April 1
$349 individuals