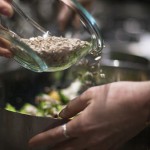 Since the grand opening of Charlee's Kitchen in October 2012, the Food as Medicine Everyday Cooking series has been successfully educating the community about whole foods nutrition and cooking simple, delicious meals. Led by a naturopathic physician, participants spend 90 minutes for 12 weeks learning and receiving hands-on, practical information to be able to make long-term healthy eating behavior changes.
Hands-on cooking and nutrition instruction led by naturopathic physicians.
12 weeks of hands-on cooking and nutrition education
90 minutes spent with a naturopathic physician each week
140 page nutrition workbook with recipes
Cook and enjoy a complete meal each week
BONUS!  Free weekly grain/legume package from Bob's Red Mill.
All this and more for less that $17 a class.
Register today!
For more information or questions, please contact Dr. Julie Briley or Dr. Courtney Jackson at 503.552.1525.
Interested in learning to cook healthy, whole foods? Ask your doctor if this series is right for you!
All of the proceeds from the Food as Medicine Everyday Cooking series go toward the continuation of our community-based program, the ECO Project, which provides nutrition education in under-served areas of Portland.