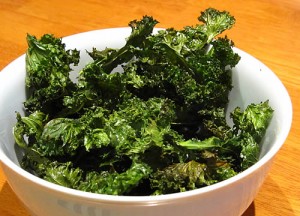 Perfect for snacks, lunches and football fare. A healthy alternative to potato chips.
Serving Size: 4–6
Ingredients:
1-2 bunches of Lacinato/Italian Kale
2 – 3 cloves of garlic, chopped
2 tablespoons coconut or olive oil
Sea salt to taste
Cayenne pepper (optional)
Instructions:
Wash and pat dry the kale.   Preheat oven to 350 degrees (325 if using olive oil).
Peel kale leaves away from thick stems and put in a bowl.
Add oil, garlic and salt and other seasoning and toss well or massage by hand.  Spread out kale on baking sheet.
Bake for 10-12 minutes, or until kale is slightly crispy around the edges.