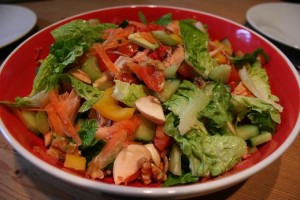 A delicious and quick way to enjoy NW salmon and hazelnuts, and fill your body with healthy Omege-3 fatty acids.
Servings: 4–6
Ingredients:
16 ounces cooked salmon.  Sub 2 cans of (7.5oz) Wild Red Pacific Sockeye Salmon (3 oz. per person)
2 tablespoons of extra virgin olive oil
1 carrot, grated
2 stalks of celery, diced
½  small/medium red onion, diced (optional)
1 teaspoon dill
1 teaspoon tarragon
Juice from 1 lemon
2 tablespoons fresh parsley (optional)
Salt and pepper to taste
1 head of red or green leaf lettuce or 6-8 cups of mixed greens
1 cucumber, sliced
2 tomatoes, sliced or chopped (or 1 cup cherry tomatoes)
1 cup hazelnuts
Instructions:

Bake fresh salmon or open cans of salmon and drain the liquid.  Add salmon to a large bowl and break up with a fork.
Add olive oil, carrots, celery, onion, lemon juice, dill, tarragon, parsley, salt and pepper to the bowl and mix. Set aside.
Add lettuce or mixed greens to a large salad bowl with chopped vegetables, hazelnuts, and other ingredients.
Place salmon salad mixture on top of green salad. Serve immediately.