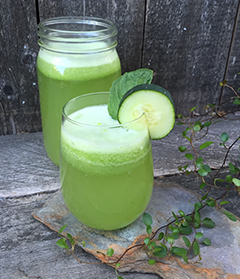 On hot days it is easy to become dehydrated. Staying hydrated by drinking enough water each day is something simple you can do to improve your health. Water makes up approximately 60 percent of our body weight! We need it to make up our organs, bathe our cells, keep joints lubricated and move toxins out in the urine. If you want to make a refreshing drink that will keep you hydrated, try this recipe!
The basil leaves used in this recipe give the drink a nice refreshing taste but also have nutritional benefits! Basil has been shown to have antibacterial properties due to the many oils it contains. It also contains many antioxidants and is an excellent source of vitamins A and K. Vitamin A helps to maintain healthy teeth, tissue, and skin. It also improves vision by producing pigments in the retina of the eye. Vitamin K plays an important role in forming blood clots in the body.
Both lemons and cucumbers are very cooling in nature. They both contain large amounts of vitamin C, as well as many other important vitamins and minerals. Vitamin C acts as an antioxidant and also aids in wound healing. Lemons have anti-bacterial properties and they benefit the liver and aid in blood pressure regulation. Cucumbers have been shown to be anti-inflammatory. This may be due to the large amounts of antioxidants in them and their inhibition of an enzyme called COX-2, which promotes inflammation.
The Environmental Working Group categorized cucumbers as part of the "Dirty Dozen" list for 2015, showing that they are one of the vegetables with the highest amount of pesticides detected. Because of this, it is best to buy organic cucumbers for this recipe if possible!
Cucumber Refresher Recipe
Serves ~4
Ingredients
4 cups Water
½ Cucumber
½ Lemon
~8 Leaves of Basil
1 cup Ice
Directions
Pour ice, water, and basil leaves into blender.
Peel cucumber and place in blender.
Squeeze lemon juice and flesh into a bowl. Remove the seeds and pour juice and flesh in blender.
Blend until smooth, pour in glasses, and enjoy!
Suggestions
Use organic ingredients when possible.
Use filtered water if possible.
References
Pitchford, Paul. Healing with Whole Foods. Berkeley, California, 2002. pp. 540, 620).
Vitamin C. Oregon State University: Linus Pauling Institute Micronutrient Information Center. Sep 2011. Web. 10 Aug 2015. <http://lpi.oregonstate.edu/mic/micronutrients-health/skin-health/nutrient-index/vitamin-C>
Kumar, D et al. Free Radical Scavenging and Analgesic Activities of Cucumis sativus L. Fruit Extract. J Young Pharm. 2(4): 365-368 (2010). 10 Aug 2015. <http://www.ncbi.nlm.nih.gov/pmc/articles/PMC3019374/>
The Water in You. The USGS Water Science School. 27 Jul 2015. Web. 10 Aug 2015. <http://water.usgs.gov/edu/propertyyou.html>
Executive Summary. Environmental Working Group. Web. 10 Aug 2015. <http://www.ewg.org/foodnews/summary.php>
Rutherford-Fortunati, Alisa. Basil: Health Benefits. Gentle World. 2 Sep. 2013. Web. 10 Aug 2015. <http://gentleworld.org/basil-health-benefits/>
Evert, Alison MS, RD, CDE. Vitamin A. National Institutes of Health: Medline Plus. 18 Feb. 2013. Web. 10 Aug. 2015. <https://www.nlm.nih.gov/medlineplus/ency/article/002400.htm>
Ehrlich, Steven D. NMD. Vitamin K. University of Maryland Medical Center. 16 July 2013. Web. 10 Aug. 2015. <http://umm.edu/health/medical/altmed/supplement/vitamin-k>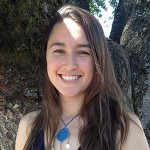 Author's Bio: Susan Mitchell is currently a student at the National University of Natural Medicine. She will be entering her third year working toward a Doctoral in Naturopathic Medicine and a Master's in Acupuncture. She has been involved with the Food As Medicine Everyday classes and is passionate about nutrition and cooking with fresh, whole ingredients. When she is not in school, she loves to travel and create artwork!