Cranberry season is here, but it doesn't have to end with Thanksgiving! This cranberry-ginger-lime salsa recipe is festively red and as delicious as it is nutritious, making it a dazzling, healthy side dish for any celebration you have planned this holiday season – or any time of year.
PREP: 10 MIN
COOK: 0 MIN
TOTAL: 10 MIN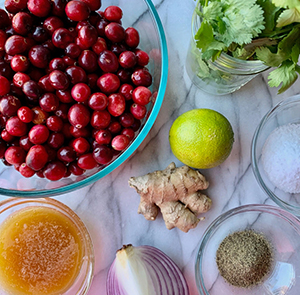 Ingredients
12 oz. fresh cranberries

1/4 red onion, diced

1 bunch cilantro, stems removed

Zest and juice of 1 lime

1-inch fresh ginger root, peeled and minced

1/4 cup honey

1 tsp. kosher salt

1/2 tsp. black pepper
Directions
Rinse cranberries and pick over them to remove any mushy berries. Set aside.
Place diced onion and minced ginger root in a food processor. Pulse several times until onion and ginger are finely minced.
Add remaining ingredients to the food processor, and pulse several times until all ingredients are minced and well combined. Scrape down the sides at least once to ensure all ingredients are uniformly minced.
Transfer blended salsa to a container, and cover. Refrigerate for at least 2-4 hours, or up to overnight, which will allow cranberries to macerate and flavors to combine.
Serve chilled with your favorite tortilla chips.
Recipe by Kira Freed, NUNM Nutrition Department Coordinator, Adjunct Faculty, School of Undergraduate and Graduate Studies