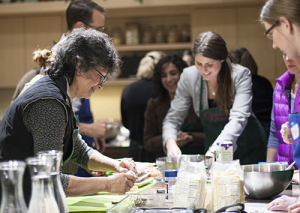 The Food as Medicine Everyday Cooking Series is a 12-week course led by naturopathic physicians that focuses on nutrition education and simple, hands-on cooking techniques to prepare food that promotes health and fitness. Located in Charlee's Kitchen on the NCNM campus near downtown Portland, it is offered year-round to individuals and families."
Transform your eating habits in just 12 weeks!
What past students say about classes.
Participants receive:
Nutrition workbook with class recipes.
BONUS! Free whole grains and legumes from Bob's Red Mill.
Series Details
The Food as Medicine Everyday series is a series of twelve weekly workshops that demonstrate simple techniques for selecting and cooking tasty, nutritious whole foods and teach how these foods can improve health and fitness.
What topics will be covered?
Introduction to Nutrients
Label Reading
Benefits of Breakfast
Habits 4 Health
How to Create Your Plate
Healthy Digestion
Balancing Blood Sugar
Grains and Greens of Traditional Diets
Healthy Substitutions on the Go
Exploring Sweeteners
Portland Food Shopping Guide
School Lunch & Snacks
Regardless of age, cooking experience, or health status, you and your whole family will benefit from learning healthy cooking skills and nutritional know-how. Each workshop will welcome up to 15–20 participants, both children and adults.
For more information or questions, please contact Dr. Julie Briley or Dr. Courtney Jackson at 503.552.1525.
Interested in learning to cook healthy, whole foods? Ask your doctor if this series is right for you!