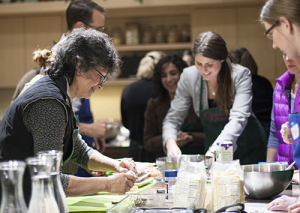 The Food as Medicine Everyday Cooking Series is a 12-week course led by naturopathic physicians that focuses on nutrition education and simple, hands-on cooking techniques to prepare food that promotes health and fitness. Located in Charlee's Kitchen on the NUNM campus near downtown Portland, it is offered year-round to individuals and families."
Transform your eating habits in just 12 weeks!
What past students say about classes.
Participants receive:
BONUS! Free whole grains and legumes from Bob's Red Mill.
Upcoming Food as Medicine Everyday classes»
Series Details
The Food as Medicine Everyday series is a series of twelve weekly workshops that demonstrate simple techniques for selecting and cooking tasty, nutritious whole foods and teach how these foods can improve health and fitness.
What topics will be covered?
Introduction to Nutrients
Label Reading
Benefits of Breakfast
Habits 4 Health
How to Create Your Plate
Healthy Digestion
Balancing Blood Sugar
Grains and Greens of Traditional Diets
Healthy Substitutions on the Go
Exploring Sweeteners
Portland Food Shopping Guide
School Lunch & Snacks
Regardless of age, cooking experience, or health status, you and your whole family will benefit from learning healthy cooking skills and nutritional know-how. Each workshop will welcome up to 15–20 participants, both children and adults.
Can children participate in FAME?
The FAME program recognizes the importance of family participation in creating healthy meals together. For this reason, we encourage families of school-age children (five years and older) to sign-up together. Children under the age of 18 years old must be accompanied every week by their guardian.
Parents and guardians are encouraged to evaluate the readiness of their child to participate in a group cooking class of up to 20 participants that involves hands-on opportunities for meal preparation. Cooking activities may include, but are not limited to, cutting, mixing, baking, blending, boiling, and measuring. There will be opportunities at every workshop for a child to participate in the creation of the meal.
The nutrition education provided weekly at the FAME workshop by the physician instructor caters toward adult learners. Please consider if your child would benefit from bringing a sit-down activity from home to participate in for 15-20 minutes, such as a coloring book or drawing paper with colors, to keep them active and interested during the nutrition education learning session.
Parents will need to supervise their own children during the nutrition education time, meal preparation, and communal eating times and assist to maintain a safe environment for their children. The FAME program cannot guarantee individualized instruction or guidance with cooking techniques to children that differs from the adult participants at this time. Parents and guardians are encouraged to spend time with their child sharing a meal preparation activity together.
For more information or questions, please contact Sasha Steiner, MBA
Interested in learning to cook healthy, whole foods? Ask your doctor if this series is right for you!