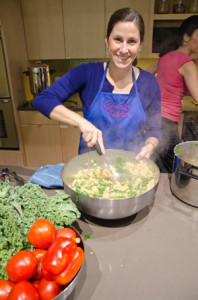 Tasty Tidbits for Your Health
This dish has an abundance of color and flavor.  When you "eat the rainbow,"  (a meal with a wide variety of color) you ensure diversity in the  vitamins, minerals and antioxidants consumed.
Quinoa is a great source of fiber and is a complete protein.  This means that it contains all of the essential amino acids (building blocks of proteins) that the body cannot make for itself. This is rare in the plant kingdom and usually only seen in meat and dairy products. It is also full of manganese, a trace mineral important in protecting the body against toxins or free radicals.
Black beans are a good source of fiber, protein and antioxidants.
Tomatoes are a good source of Vitamin C and antioxidants.
Greens in general are a good source of beta-carotene (the precursor to vitamin A), many minerals, fiber and flavonoids (color components of food that aid in protecting the body against toxins.)
Servings for: 4–6
Ingredients:
1 cup quinoa (red or white)
2 cups water
1 1/2 cups black beans (1 can drained)
1 cup frozen corn, thawed
2 large tomatoes, diced (or sub 1 14 oz can diced tomatoes)
1 bell pepper (any color) finely chopped
3–5 green onions, finely chopped
1–2 cups chopped spinach or chard
Dressing:
¼ cup extra virgin olive oil
2 tbsp lime juice
2 tbsp apple cider vinegar
1 tsp salt
1 tsp cumin
1/8 tsp chili powder
black pepper to taste
Instructions:
Prepare quinoa: Bring water  and quinoa to a boil in a medium sauce pan. Reduce heat to medium low, cover & cook for 12–15 minutes (until water is absorbed). Remove from heat and add greens to top of quinoa & cover again to steam.  Let sit five minutes and then fluff
Drain canned black beans & rinse. Thaw corn in colander
Chop bell pepper, green onions. Dice tomatoes.
Whisk together dressing ingredients
When quinoa is finished cooking, mix all ingredients together
Adjust seasonings, vinegar/lemon juice to taste.