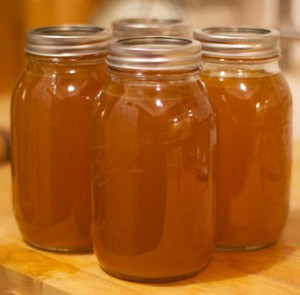 Ingredients
3-4 lbs of organic grass-fed beef bones (knuckles and cut bones with marrow) or organic chicken carcass or fish carcass. Include chicken feet, fish heads, and scraps.
4 quarts of filtered water
½ cup of apple cider vinegar
2-3 coarsely chopped onions
2-3 coarsely chopped carrots
2-3 coarsely chopped celery sticks
2-3 sprigs of thyme, tied together
1 bunch parsley
Directions
Preheat oven to 400 degrees F. Line a baking sheet with parchment paper or silicone baking mat, and set aside.
Using a large, sharp knife, carefully cut the spaghetti squash in half to form two "boats" (see Notes for tips). Remove the seeds. Divide the olive oil between the two halves and brush the oil evenly over both halves. Sprinkle 1/2 tsp. of the kosher salt and the 1/4 tsp. ground black pepper evenly over each half. Place the spaghetti squash halves cut-side down on the prepared baking sheet. Roasted in the 400 degree F oven for 40-45 minutes, or until a fork is easily inserted in the squash.
While the squash is roasting, prepare the toppings. Start by toasting the chopped hazelnuts in a small frying pan over medium-low heat. Stir frequently, to avoid burning the nuts. Once the hazelnuts are fragrant and just starting to brown, remove them from the heat and transfer them to a small bowl. Wipe out the skillet so no bits of nuts remain, and return it to the stove.
In the small frying pan over medium heat, brown the stick of butter. Allow the butter to melt in the pan, undisturbed. As the butter melts and heats, it will foam up and make a popping sound. Allow this process to continue and do not stir the pan until the foaming subsides and the popping nearly stops (this will take a few minutes). By this point, you should have beautifully browned bits in the bottom of the pan, and you should be able to smell the nutty flavor of the browned butter. Remove the pan from the heat.
Off the heat, add the minced garlic to the browned butter, and stir quickly to incorporate the garlic into the butter.
Add the baby spinach leaves to the browned butter and garlic, and stir to combine. The spinach should begin to wilt from the heat of the butter. Once the spinach is mostly wilted, add the remaining 1/2 tsp. kosher salt.
Once the spaghetti squash halves are tender, remove them from the oven and flip them up to form "boats." Using a fork, gently scrape the spaghetti squash strands from the sides into the center.
Divide the browned butter-garlic-spinach mixture between the two halves of the squash. Gently stir the mixture into the loosened squash strands to evenly distribute it.
Top each spaghetti squash half with a diced Roma tomato, followed by the toasted hazelnuts, and lastly the crumbled gorgonzola.
Return the filled spaghetti squash halves to the oven for an additional 10 minutes.
After the gorgonzola cheese has melted, remove from the oven, serve, and enjoy!